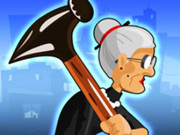 Angry Gran
Category :
other
Note :
(0)
---
Description :
Now you can play the game that began the Angry Gran series and takes to the streets and whacks those punk neighbors! Try Angry Gran! If you are under pressure at work, you can play our game to relax. Come and have a try!
Keywords :
Whack, Kids, HTML5, House, Collecting, Boy, Block, Android
Control :
Mouse or tap to play.
Author :
gamepix.com
---
Comments
Please login or register to post a comment