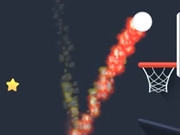 Drop Dunks
---
Description :
Drop Dunks is an interesting sports game. Players who like playing basketball don't miss the game. In this game, You need to slide your fingers to guide the basketball into the basket. Can you also get balls as many as impossible? Have fun. Let's try!
Keywords :
Sports, Skill, Physics, Kids, HTML5, Boy, Basketball, Ball, Arcade, Android
Control :
Mouse click on PC and Tap on the screen on the mobile phone.
Author :
odiusfly.com
---
Comments
Please login or register to post a comment