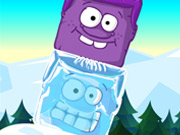 Icy Purple Head
---
Description :
Icy Purple Head is an interesting puzzle game. In the game, icy slides, purple sticks. Touch anywhere to become icy, try to reach the postage box to finish the level and void dangerous spikes and electricity! Have fun!
Keywords :
Puzzle, Platform, Plant, Obstacle, Kids, Ice, HTML5, Frozen, Brain, Boy, Block, Avoid,
Control :
Tap on the screen on mobile phone and mouse click on PC.
Author :
gamepix.com
---
Comments
Please login or register to post a comment