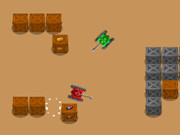 Micro Tank Battle
---
Description :
Tank fight! Micro Tank Battle is a fun tank fighting game, you can choose to play it with computer or your friends, control your micro tank and collect equipment, shoot your enemies down before he kills you, avoid being bombed by your enemies bullets. Good luck and have fun!
Keywords :
Tank, Shooting, Killing, Kids, HTML5, Driving, Collecting, Boy, Avoid, 2 Player
Control :
WSAD or arrows to play, space or shift to shoot.
Author :
cloudgames.com
---
Comments
Please login or register to post a comment